Mosteiro dos Jerónimos
The Hieronymite Monastery was declared a National Monument in 1907 and in 1983 UNESCO classified it as a "World Heritage Site".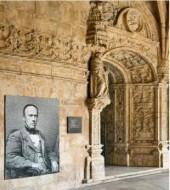 King Manuel I had the idea of erecting a large monastery close to the site where Henry the Navigator had built a church dedicated to Santa Maria de Belém in the 15th century. With a view to perpetuating the memory of Henry and acknowledging his own great devotion to Our Lady and St. Jerome, Manuel I chose to establish the Monastery of Santa Maria de Belém on a site just outside Lisbon on the banks of the River Tagus. The monastery was given to the Order of St. Jerome, which is why it was given the name of Jerónimos (or Hieronymite) Monastery.
The Monastery is a cultural reference point that has attracted artists, chroniclers and travellers in the course of its five centuries of existence. It received, and became a burial place, for kings, and later poets. Today it is admired by one and all, not only as a remarkable piece of architecture but also as integral part of Portuguese culture and identity.
Opening Hours
October to May
From 10.00 a.m. to 5.30 p.m. (last admission at 5.00 p.m.)
May to September
From 10.00 a.m. to 6.30 p.m. (last admission at 6.00 p.m.)
Closed: Mondays and 1 January, Easter Sunday, 1 May, 13 June and 25 December
Special discounts:
Visitors aged 65 and older (proof of age must be shown): 50% discount
Youth Card: 50% discount
Student Card: 50% discount
Free admission:
1st Sunday each month (up to 12 pax)
Children up to the age of 12
Your ticket will be sent within 24 hours in a separate e-mail.